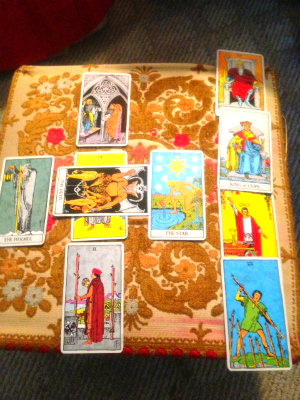 My name is Adriel. I'm a Rootworker, Psychic Reader and Reiki Healer that promises you confidential spiritual services pertaining to your need for assistance in matters of love, money, luck, healing, removal of obstacles, uncrossing, protection, and spiritual growth. I am a graduate of the Lucky Mojo Hoodoo Rootwork course. Operating out of Los Angeles, California but offering services nationwide and abroad! Readings and spell consultations are available over the phone and through email.




"It's not the cards that one is dealt . It's how one plays the game."


Services for those in Los Angeles: I can perform in-person house cleansings, personal cleansings, spell castings for money, love, revenge, protection, luck and more, rootwork, numerology, palmistry, tea leaf readings, and astrological analysis, tarot readings, and spell consultations. I can also preform a Reiki Session in-person or through a distant healing session. I can also make you custom mojo bags for any condition.

For other US Residents and International Clients: I can do candle burnings, spell castings and all other forms of rootwork, as well as numerology, and astrological analysis, spell consultations and tarot readings over the phone. I can also do tarot readings over email. I can mail mojo bags, oils, and sachet powders to anywhere in the US and the world. As well as perform a distiant reiki healing session for those who need it. Reiki provides deep relaxation, comfort &; peace. Reiki can help you to increase the Life Force Energy and enhance the power of your immune system so your body can heal itself. Reiki will help you feel balanced.

Specializing in Love and Passion Spells!